Monday, July 07, 2008
Rooftop views
So this is the view from the roof of our apartment building- its kinda quiet up there if its quiet anywhere in Changsha.
You can kind of see the mish mash of buildings and how some people build little gardens and hide-aways on their roofs. Mostly people use the roof of our building for drying washing and drying food- you can see some beans being dried on the left and some chilli's being dried on the right.
Facebook blocked?
Well it seems the olympics are playing all havoc with visas here in China and now maybe even the internet?

Facebook has become the place where I spend most of my time on the 'net so much that I don't even post to this blog very often....that is until facebook doesn't work.

It seems that Facebook is currently blocked here in China (for the last week approximately)- I can access it via a proxy via a proxy (yes crazy - not even one proxy will do it!) and then I only get the basic views - i can't change my status, click on tabs or post. Other than that the internet is really really slow and other random sites seem to be blocked as well - including www.weather.com. Downloading of emails is also hit and miss.

We'll wait and see if this will be a long term thing or just a short term random annoyance.

Monday, January 28, 2008
Pictures of the frozenness
Ok they are now calling it the coldest winter in 50 years. Highways, airports and train lines are all closed. But it looks pretty...just wish we had better heating.
Powered by ScribeFire.
Friday, January 25, 2008
FREEZING CHANGSHA!
Wow - the coldest winter in 30 years they are saying. I can't believe how cold it feels - even those from Canada and UK who are used to up to -40 are freezing! The locals who can afford it are checking into hotels. Businesses have generators set up as the power keeps getting cut!
Powered by ScribeFire.
Tuesday, December 11, 2007
Newspaper article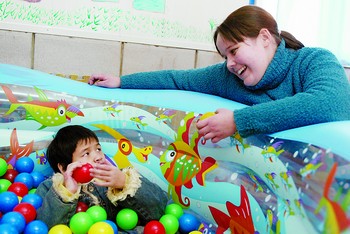 (picture from changsha evening newspaper)
me at work! (staged work!!)
Check out article (in chinese) and photo
here
Work has been crazy busy lately. Thankfully the weather has been quite mild, only began to go below 10 degrees celcius this week!
Powered by ScribeFire.
Thursday, September 27, 2007
Hotel room
Ok, so the photos don't do it justice. It was a nice room, just a little...interesting. Bright
orange
walls,
pink
desk, bright
green
bathroom, bright
yellow
piping for central heating. And there was the lamp with sweaty looking peacock feathers. Oh! and of course the glass walls around the bathroom!
Tuesday, September 25, 2007
Autumn moon festival
Today is the day for the Autumn Moon Festival. Traditionally this is the day you have dinner with family, eat moon cakes together and look at the moon.
Unfortunately, I don't particularly like moon cakes, I'm far from family and any friends today and its cloudy so chances of seeing the moon later are doubtful.
Happy Moon Festival to you anyway! :)
Sam
Powered by ScribeFire.
Monday, September 24, 2007
Tripping around
Well I've been here, there and everywhere in the last 3 weeks. Had a busy week first week of September with meetings at work. Then headed off to Macau for our annual staff retreat.
Macau used to be a pirate cove apparently (bet you didn't know that ;) ), the Portuguese in all their shipping exploration etc rid it of said pirates and as their reward China gave them Macau, or so the story goes. Macau was of course returned to the Chinese several years ago by treaty but still retains many old buildings and other remnants of Portuguese culture including yummy food. Unfortunately now it seems the "pirates" have won it back and the place is chocker block full of casino's. Nice place to see once but won't be rushing back there anytime soon.
I then had a few days in Hong Kong for some errands/business. Went back to Changsha for 2 days and then came to TianJin where I am right now, visiting another NGO who are helping families in the community who have children with disabilities. Its only day one but its been amazing, my head's exploding but in a good way.
On another note, I'll post pictures of my hotel room I'm staying in when I get the right cords. Its a local cheap hotel, very nice, especially for the price. Just whoever did the planning was a little....creative with colours, and the bathroom :)
Catch you all later,
Sam
Powered by ScribeFire.